Figment on the Move: Run/Cycle routes from our very own explorers
We recently checked in with some of the Figment community's avid runners and cyclists to find out more about their explorations around the neighbourhood. It turns out our cosy shophouse streets are also great routes for a regular workout, with the city's best sights not too far away! Here they've kindly shared their favourite routes and handy tips if anyone would like to attempt them.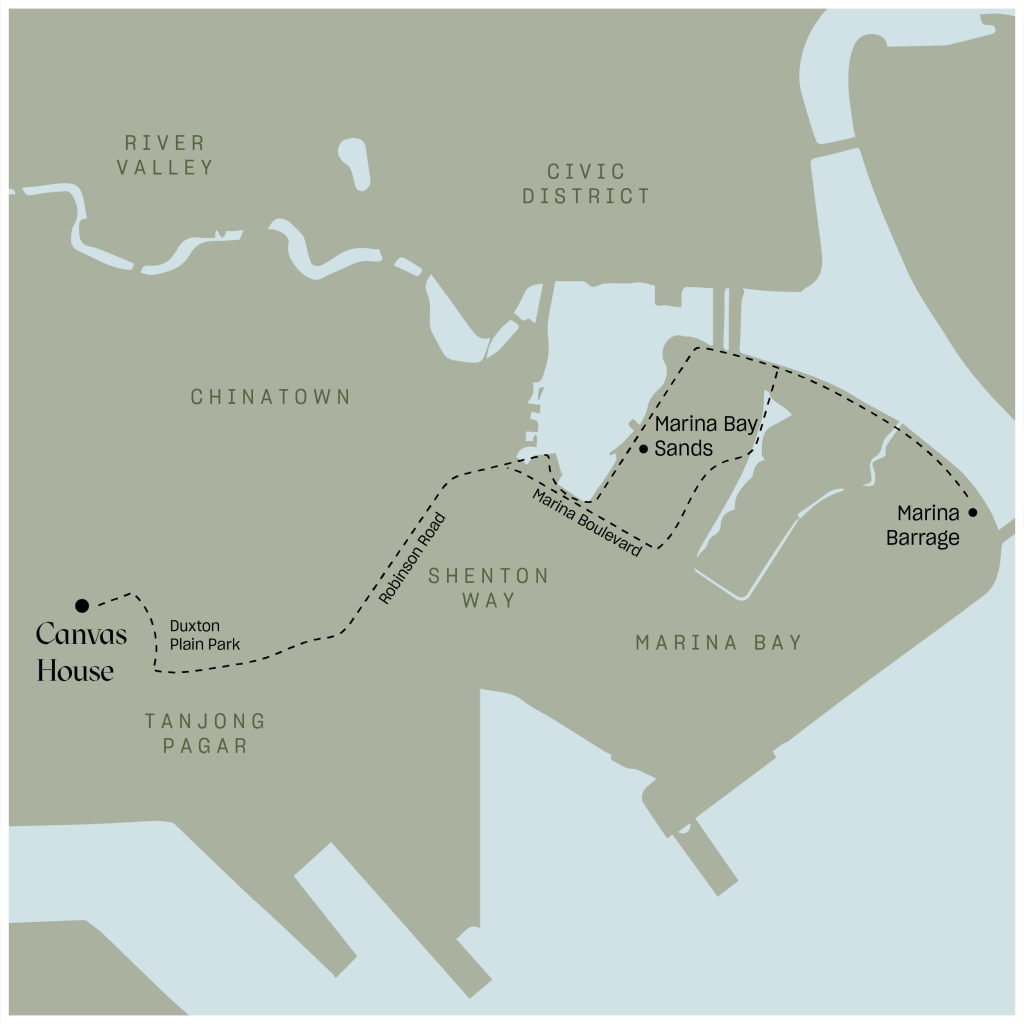 Cycling from Tanjong Pagar to East Coast Park:
Ilma Afzal, Figment Member
Canvas House (Tanjong Pagar)
Hi Ilma! What is your favorite cycling route near home?
From home to Marina Barrage and on to the ECP.
What makes this route special to you?
I love this route as I see a lot of familiar faces who live near Marina Bay Sands, which makes this COVID time much less apparent as I'm able to cycle mask-free.
Any tips for budding runners/cyclists who want to try this route?
Don't go on weekends or evenings as it can sometimes get so crowded, so you may not have as much fun, plus you won't get to see the fab views of MBS, the Merlion, Fullerton, CBD skyline, etc. Also, ECP on the weekends is so packed! Stay safe.
What does this habit of cycling mean for you?
This is basically just my weekly 'me time' where I can focus on de-stressing and think about anything other than work.
How does cycling around the neighbourhood make you see it differently?
I definitely appreciate the beauty of our neighborhood even more & I always notice such friendly workers smiling. There was once I forgot my mask & the workers at the nearby construction site near Keong Saik gave me a brand-new sealed pack of masks for free even though I asked for one. I really love the area 🙏🏻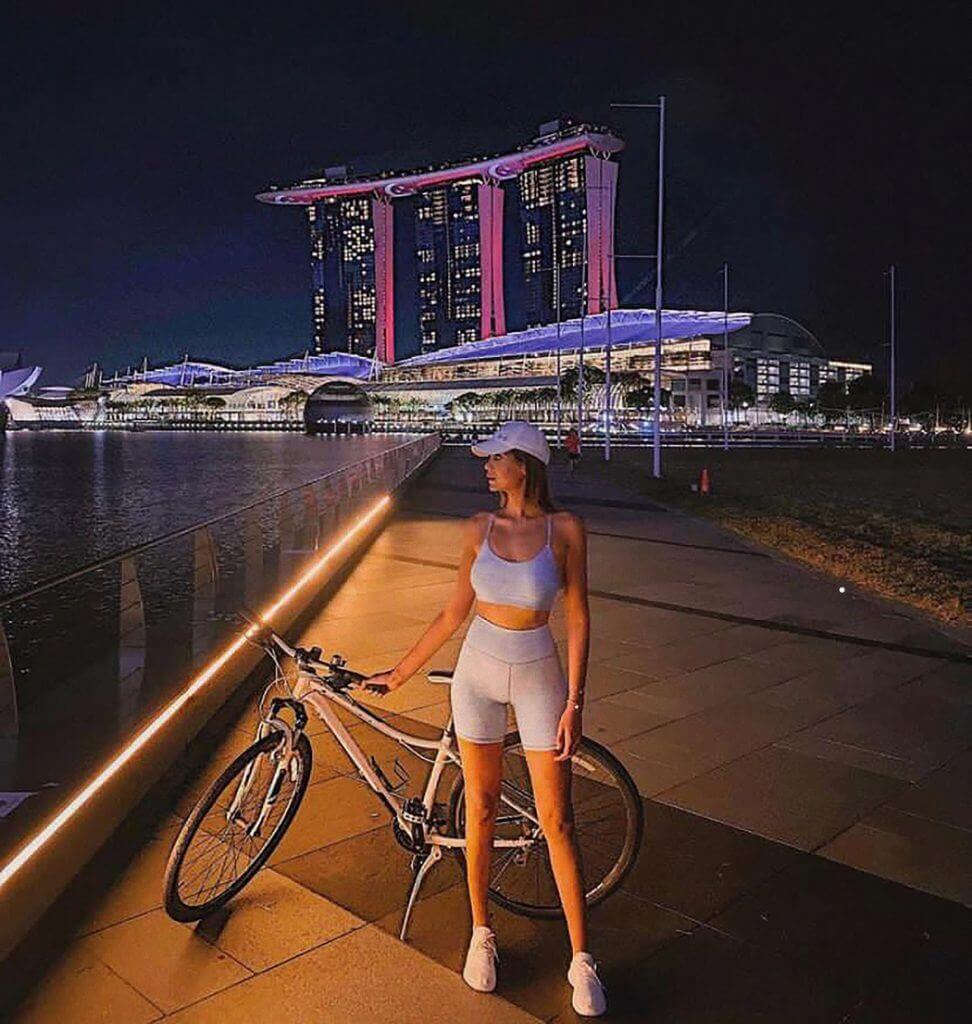 Running from Jalan Besar towards the Bay:
Nicholas Goh, Figment Member
Cavenagh House (Jalan Besar)
Hi Nicholas, what is your favourite running route?
The route that takes me towards Marina Bay. It's just south of here (Jalan Besar). There are a few configurations for this route so from here sometimes I do an 8 KM, other times 20 KM.
To map it out, I start from home, walk down to the traffic light, run towards Chye Seng Huat, but before I hit Chye Seng Huat, I take a right towards Bendemeer MRT and then I'll just go all the way down to the station, cross the big junction, and that's where the Bay starts.
I've also tried a couple other routes – these are some of the top three running routes in Singapore. Do you know Nylon Coffee in Tanjong Pagar? So I know the owners and I usually run these routes with them– it's their favourite route too. What we do is we start where the new Hong Kong 88 is – near the new Jalan Besar HDB is – it's just across the road from there and it just goes towards Kallang and even backwards to Thomson – those are pretty good running routes.
Running from Cavenagh House in Jalan Besar to Marina Bay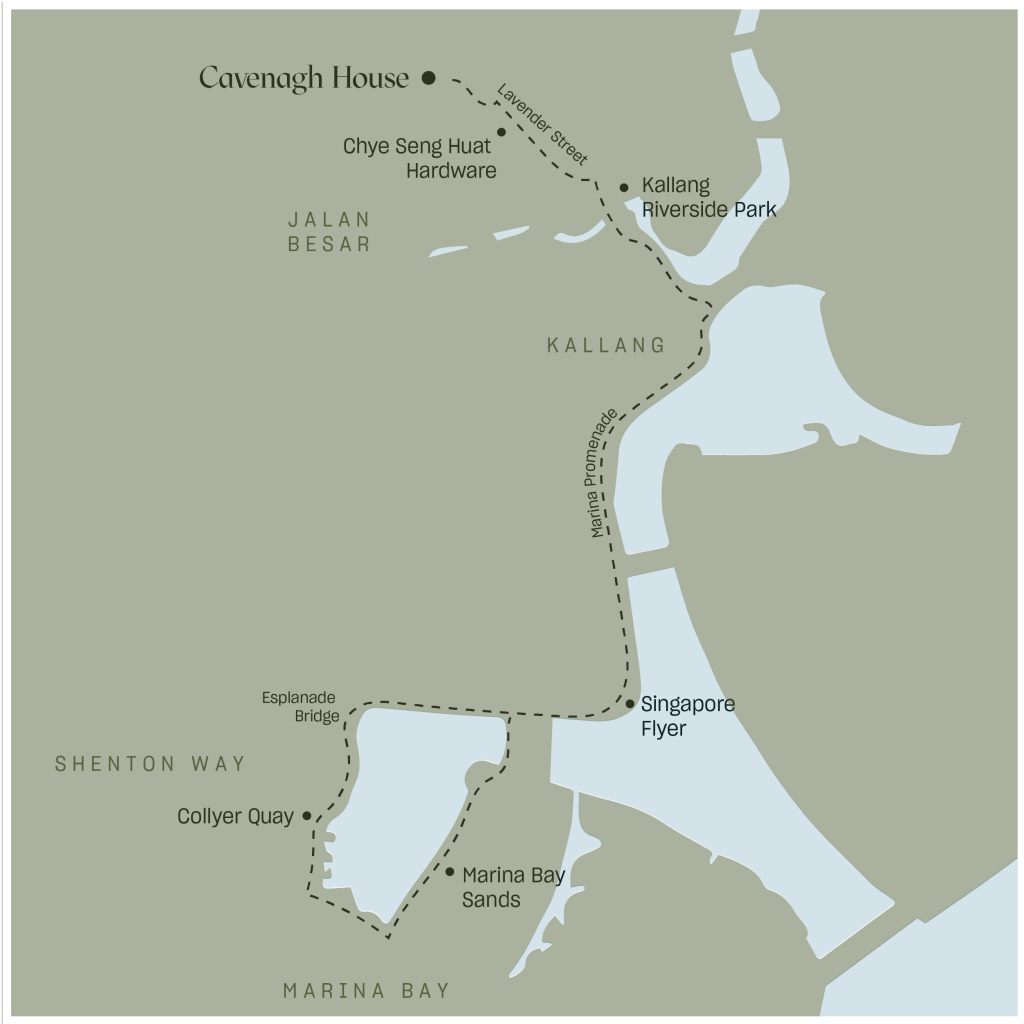 What makes this route special to you?
It's just a nice, quiet route. Petain Road is actually really close to the main 42 KM marathon route in Singapore and it's along the Bay so it's really pretty and cooling. It's a long uninterrupted route with no traffic lights. Towards the end of the year you'll always see the same people running, usually folks who are training for the marathon. If you run at around the same time regularly you can recognise their faces which is nice and we'll say hi.
Any tips for budding runners/cyclists who want to try this route?
I'll say really hydrate because Singapore is so humid. If I'm running above 10KM, I always bring salt pills or just hydrate beforehand. People tend to underestimate how much they can sweat here in Singapore.
What does this habit of running mean for you?
Wah, that gets really deep. I think running is a way to force myself to unplug. You can't use your phone to watch a YouTube video or check emails while running so it's a really good way to set an hour aside to be in my own head.
How does running around the neighbourhood make you see it differently?
I think Jalan Besar is very different from other parts of Singapore, especially so when you look at the configuration of the streets. I was talking to friends who work at URA and they were saying that the streets, especially between Jalan Besar and Little India, reflects a British colonial design which is not the most optimal. It explains why the streets are so different and also why they are always so congested.
Also, if you run in one direction for five minutes you might find colonial architecture, but just run onwards for another five you'll find buildings that look quite different. It's nice to run through different landscapes of Singapore within one run – and on another level, get to run through different periods of history in Singapore in one run.
Yeah, Jalan Besar has transformed so much over the years as well.
Yup. Although I don't think it has transformed as drastically as Tiong Bahru has. Tiong Bahru used to have this very tasteful, retro vibe but I think that's changed because the lease has driven a lot of old establishments out. Jalan Besar, however, is wide enough that many of the old establishments are still present so its old-school vibe is retained. Sure, modern coffee houses like Apartment Coffee have recently set up shop in the neighbourhood, but they co-exist well alongside very old and traditional kaya toast places.

Cycling across downtown Singapore:
Nicholas Ng, Figment Alumni
Canvas House (Tanjong Pagar)
Hi Nicholas! What is your favourite cycling route?
Along Alexandra canal, starting from Alexandra Road, towards Boat/Clarke Quay and MBS.
What makes this route special to you?
I get a surreal feeling while I take in the sights, as if I'm witnessing Singapore's transformation through time. The Singapore River has changed so much from our immigrant roots – from the junk boats ferrying merchants to glitzy structures with coworking spaces.
Any tips for budding runners/cyclists who want to try this route?
If there is an option to take the underpasses, do that or you might get stuck at the traffic lights and that breaks the pace.
What does this habit of cycling mean for you?
For me, it's social. I do it with friends – sometimes new ones – and in the process, discover cool spots, new places to eat while burning the calories so I can indulge without guilt!
How does cycling around the city make you see it differently?
Having grown up in Singapore, I'm embarrassed that I didn't realise all these different districts were connected by the river. So this route taught me to connect the dots topographically. One moment I could be at Alexandra Road, and the next moment while lost in the pedal strokes, I would find myself at Zouk at Jiak Kim Street, and the next could be down at MBS enjoying a chocolate gelato.
Cycling From Joo Chiat to Gardens by The Bay:
Isabelle Tow, Figment Editor
What is your favorite cycling route?
I don't think it can be called my favourite, it's just the one I always take. I follow the Tampines PCN to Bedok Reservoir, then Siglap PCN that links to East Coast Park and Gardens by the Bay via the Fort Road Bridge. It's a long ride, about 20km; 40km if you ride back as well.
What makes this route special to you?
The length, difficulty and reward at the destination. East Coast Park is beautiful, especially towards Fort Road Bridge where there are these tall, willowy pine-like trees (Casuarinas, I think) that momentarily transport you out of tropical Singapore. Of course, the ascent up the bridge is frigging aggers but then the descent and rest of the way to the Gardens is lovely. It more than makes up for those sore thighs and numb bum.
Any tips for budding runner/cyclists who want to try this route?
The route from Joo Chiat to ECP/Gardens by the Bay (map below), or vice versa, is doable for all cyclists. It's not very long, but still fun because you go from a very dense urban environment where the tiled pavements are clearly made for only walking to the cooling East Coast beach with wide cycling paths.
If you're attempting the route from Changi Village or Tampines to ECP/Gardens, I'm not gonna lie, it's exhausting. So maybe attempt it in sections for a few weeks, and when you've built up your stamina, go for the whole stretch. And reward yourself with good food at SuperTree Food Hall or anything good along East Coast Road. I know it's tempting to stop at Satay by the Bay since it's right there but don't cave! The food is absolutely not worth it.
What does this habit of cycling mean for you?
I used to cycle a lot more in university, so when I do cycle these days it is almost an event for me. Cycling is by far my favourite physical activity so if I make time for it it kind of means I'm taking care of myself.
How does cycling around the city make you see it differently?
If you're someone who is not great at directions I recommend cycling for leisure. It takes the fear out of getting lost because you realise that all roads are connected, and you can always find a path out. You gain confidence in navigating the city by absorbing all the landmarks and road names so even when you're not on your bike you'd have developed an instinct on how to get from point A to B from memory.
From Still House in Joo Chiat to Gardens by the Bay
(9.2km, estimated time: 40min)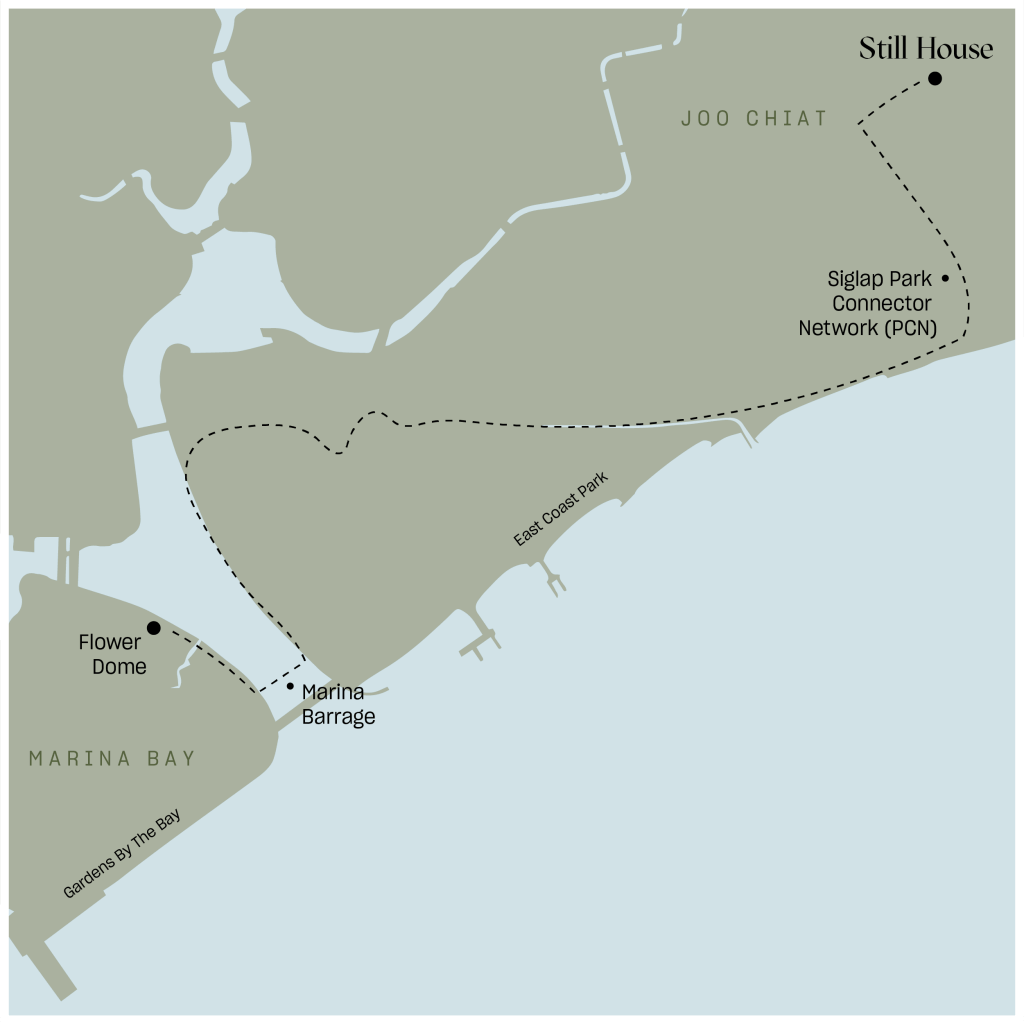 Turn onto Joo Chiat Road and ride towards I12 Katong
Continue riding along Marine Parade Central until arriving at East Coast Park
Turn right and ride towards Fort Road Bridge. Go up Fort Road Bridge and follow cycle path all the way to Promenade Lawn
Turn left at Promenade Lawn and follow path along Skyline Promenade
Turn right into Marina Barrage, and right again exiting the Barrage
Ride ahead until arrival at Cloud Forest/Flower Dome at Gardens by the Bay
Thank you to everyone from the Figment community who contributed to this post! Interested to find out more about our shophouse neighbourhoods? Browse our homes in Jalan Besar, Joo Chiat, Tanjong Pagar and other shophouse districts.