All about CANVAS HOUSE
This post contains photos from the launch night of CANVAS HOUSE. To view photos of the house, suites, and other amenities available, please click here.
Words by Nur Hadziqah. Photos by Ivan Tan.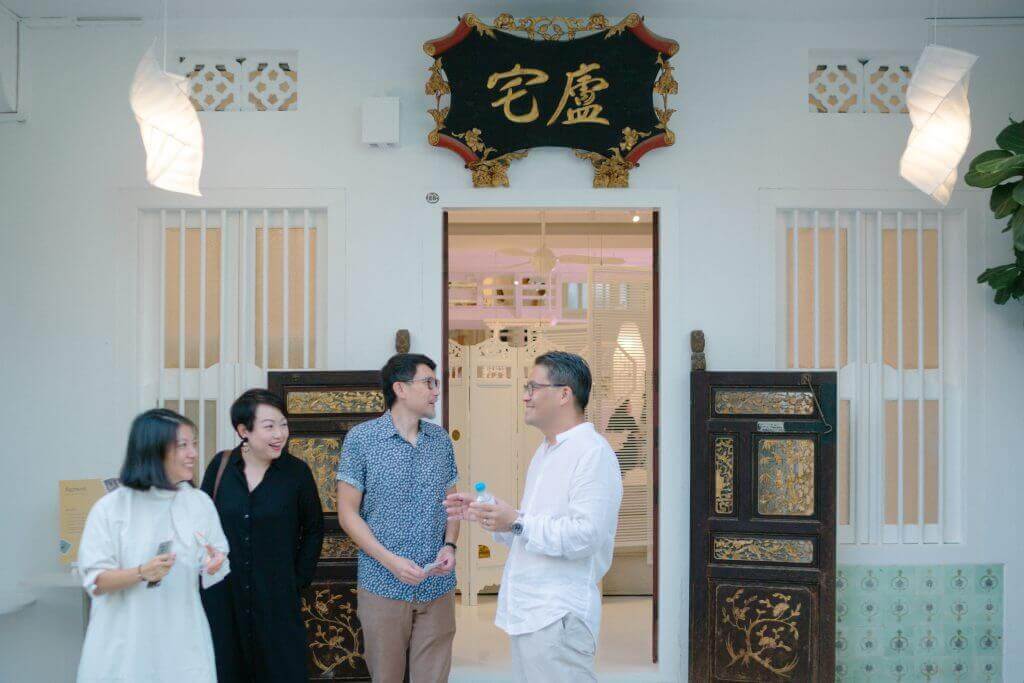 The design of CANVAS HOUSE was a speedy 4-month project to reimagine the house at Blair Road into a stunning co-living home. Part of the Case Study Homes series, Ministry of Design (MOD) and 5 other design studios received a fixed budget to redesign 6 conservation units in different locations.
For MOD, CANVAS HOUSE was a breath of fresh air. As they usually work on projects that could take years to realise, this was more of a passion-led project, with MOD founder Colin Seah announcing the project along with a call for volunteers.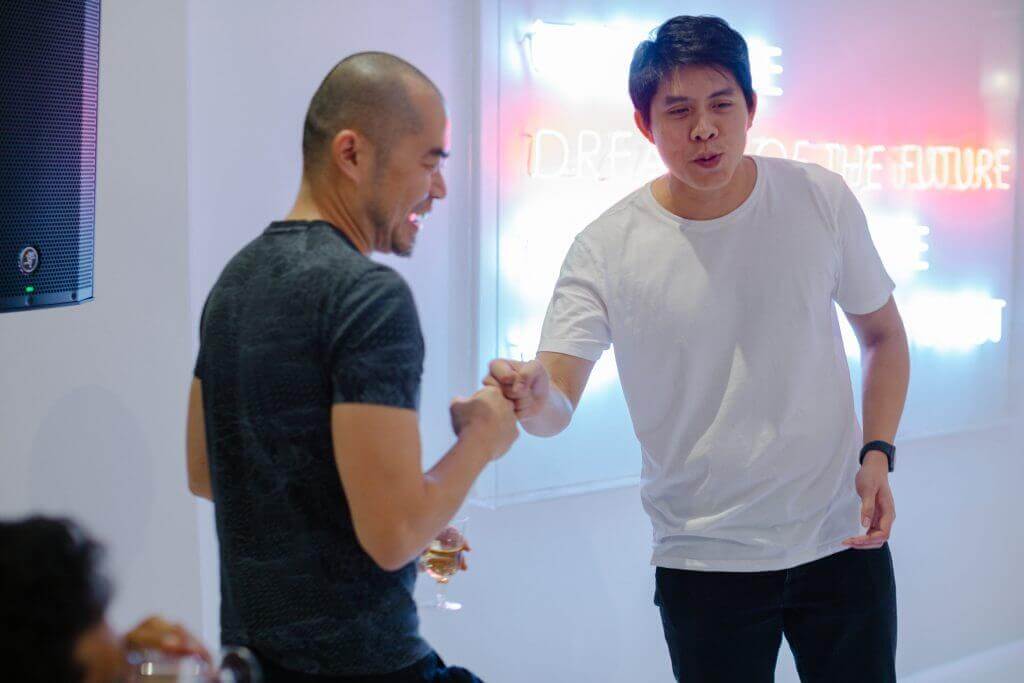 His vision for the conservation residence was an all-white canvas that reset the space.
Upon Colin's announcement of the project with Figment, Justin was the first to raise his hand. He was drawn to the opportunity of redesigning a piece of Singapore's architectural heritage.
"Although we design new-build projects, I've always wanted to design something that comes with a touch of history and a story behind it. There is great potential," Justin explains.
In the foreground: Neighbours from the street!

Ft. our partners from Journey East, Terence and Anita, thank you for coming!

Homeowner of CANVAS HOUSE

We're so glad our partners, Arthur and Yah-Leng from Foreign Policy Design Group, could attend the launch with their little one!

Glad that our members could meet our partners and learn more about Figment's work
He was also excited by the vision Colin was painting. This wasn't the tired concept of 'old meets new', it was a completely different treatment and approach to redesigning a house.
Colin imagined a conceptual and literal blanket of white that covers the past, and provides a canvas for the future. The house would rhythmically reveal parts of its past, with Shadows of old timber as well as Layers of revealed brick and intricate details of pre-owned furniture. "It is a neutral white canvas for the future to be dreamt upon, rather than a wholesale homage to the past," Colin says.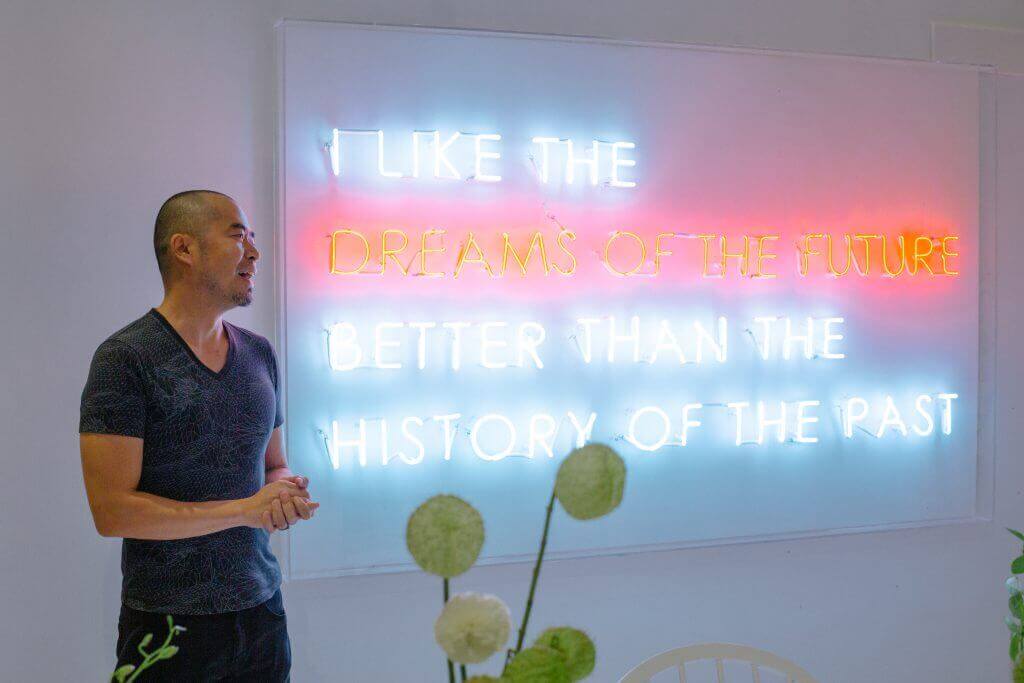 MOD created Dream, a text-based neon piece with a quote by Thomas Jefferson that encapsulates MOD's approach to CANVAS HOUSE.
Speaking to Yuppidee, more known as Fai, the most challenging part of the project was sourcing the furniture. She and the team from MOD spent 3 weekends in Tan Boon Liat building, hunting for eye catching pieces.
"The hard thing was that we are looking for a story. Something we can reveal about the furniture."
They were indeed expert curators, using found objects to create thoughtful collage-like arrangements that engage visitors in different parts of the house. An eclectic wall of mirrors welcomes visitors in the living room on the ground floor, while the seating area on the second floor features a curation of plates with playful reveals. Acting as a divider between the living and dining area is perhaps MOD's masterpiece installation of antique vases, seating pieces, and a set of drawers.
After all the toil, the MOD team Nong, Justin, Fai, and Zhang Hang could now bask in the glory of their finished work — except Zhang Hang, who was on his last day of quarantine! Schade!
Kang, who handcrafted the light fittings on the ground floor, also joined us for celebrations. A self-taught accessory artist, this was the first time he designed light fittings with his signature of using upcycled materials. He had spent months experimenting with the material.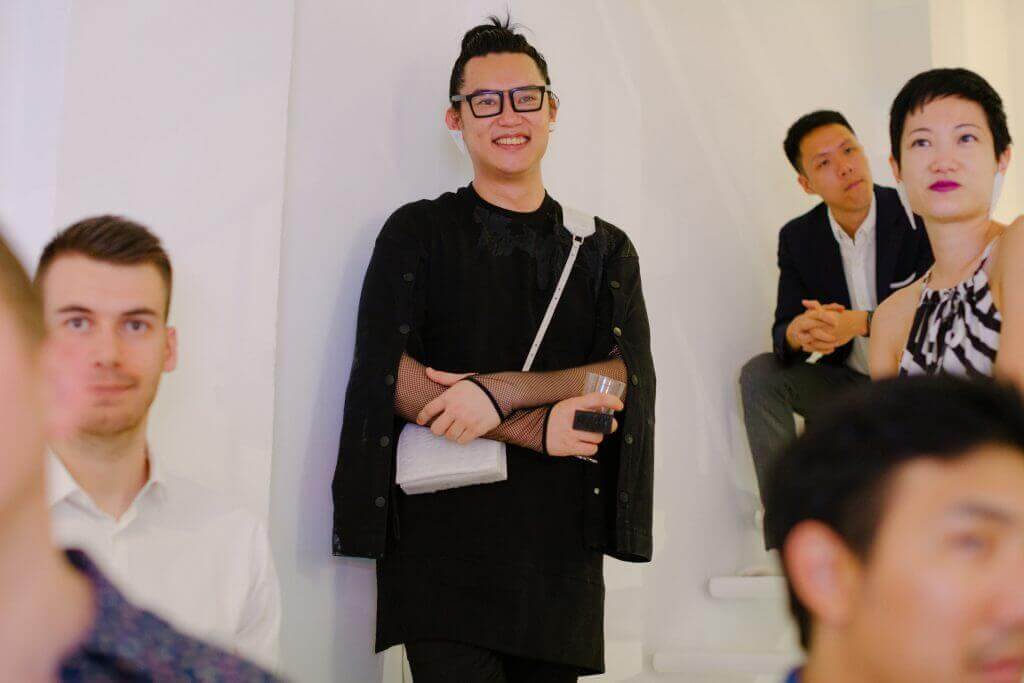 In an Instagram post, Kang shared, "Frankly, I really didn't know where I was going with this. It's like a perfect commentary of my work process: evolving as we progress to best complement the 'canvas'."
A special live performance by Ezzam Rahman in the glass box/study area beside Ivory Suite made the party even more memorable.
For Ezzam, this was a different crowd from what he was used to, but he wanted to give it a try.
"It's different from a gallery and an art crowd, but I'll just go with it and see what happens. I also want to build a relationship," he shared later that same night.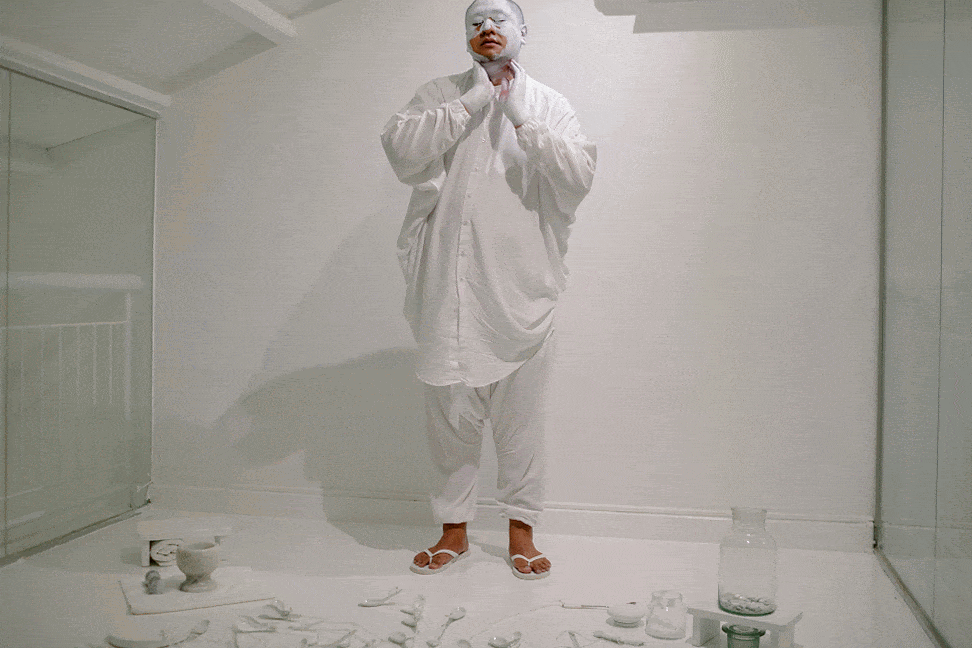 Ezzam had first performed in one of Figment's properties along Lor 24A Geylang 8 years ago. Considering his ephemeral pieces that reference the past, and how he is known for doing pieces in white, we reached out to him again for CANVAS HOUSE.
The inaugural launch party of our Case Study Homes would not have been possible without all our fantastic partners.
Special thanks to We Are Little Bites for serving up delicious amuses-bouches, CJ, our DJ, and Ivan, our photographer.